Listen to Rosa Lamoreaux sing - "I will consider my cat Geoffrey" from Rejoice in the Lamb by Benjamin Britten.



Bach Among Friends


Bach Among Friends offers a selection of intimate duets and arias as chamber music, in a setting which might have been heard in Bach's time played and enjoyed among friends at home. As performing colleagues, we enjoy the thrill of presenting Bach's major works in large venues for large audiences, but the special delights of Bach's chamber music in smaller spaces, house concerts and chamber halls offers friendly and direct communication. The harpsichord was the available keyboard in the small private settings of Bach's time. Its unique personality is allowed to shine through as solo and supporting member on this recording. The theme of our selections focuses on the heart and soul, joy and longing. Adoring the music of J.S. Bach unites us, and performing his challenging music continues to be one of our most fulfilling musical experiences.



Evening Serenade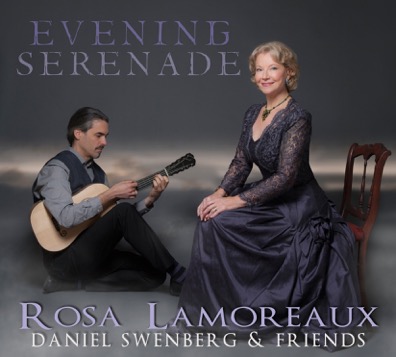 Beautiful and unusual Songs with guitar, violin, cello and harpsichord 1760-1840. Rarely performed or recorded.










Oh, So Nice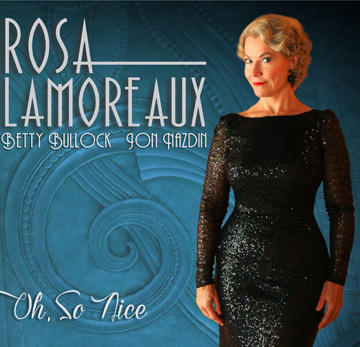 Selections from the Great American Song Book from George Gershwin to Stephen Sondheim.










Luminous Spirit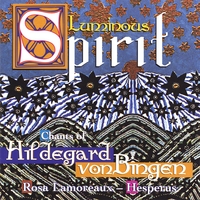 "Singing with clarity and directness, luminous is a good description of the radiant voice of Rosa Lamoreaux."
Early Music Review, England

"Ms. Lamoreaux's singing is heartfelt, capturing the expansiveness and rapture inherent in Hildegard's compositions. Her phrasing and dynamics are simultaneously informed by a vast conceptual scope and a thorough focus on each minute detail, both essentials for any vocalist hoping to make artistic sense out of pure melody."
Early Music America

"Meditative, extraordinary music of Hildegard von Bingen beautifully sung and gently supported by musicians of Hesperus on early instruments. Lamoreaux's limpid, lambent voice, great ease, prodigious range and perfect intonations through the leaps and melismas of the melodic line, ideally suit these sequences and hymns."
Monterey Herald

"Lamoreaux's sensitive recital throws new light upon the genius of the great abbess. Her voice, pellucid and supple, is perfectly at ease with Hildegard's demands." Gramaphone


Celestial Beauty in the Mission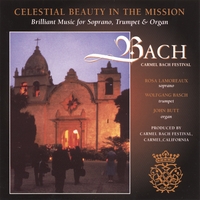 With brilliant, sparkling and nearly acrobatic dueling this program for Soprano, Trumpet and Organ, may fill you with celestial beauty in Baroque gems of Bach, Handel, Monteverdi, Scarlatti, Melani, Merula and others.

"Rosa Lamoreaux found her way through the melismatic labyrinth of countless cadences and coloratura with unshakable security. In four arias by Alessandro Scarlatti she sang brilliantly, her clear soprano voice securely controlled in all ranges with stylistic authenticity, and in perfect collaboration with her accompanists."
Wiesbadener Tageblatt, Germany

"Lamoreaux is an artist who strikes the right balance between the extremes of dramatic detail and the sense of continuity that the baroque style requires. Lamoreaux sculpted with translucent delicacy over the throbbing underlying rhythm enforced by trumpet and organ.The trumpet matched every inflection and ornamental curlicue that Lamoreaux summoned."
The Washington Post


Montmartre Cabaret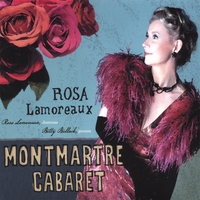 Rosa Lamoreaux not only sings the songs of a French chanteuse of the 19th century, she becomes a French chanteuse of the 19th century taking the rapt audience with her. She embodies the pathos, tenderness, electricity, flamboyance, yearning and love expressed by the cabaret singers in the French clubs of the days of Jane Avril. The audience is transported back to that era through the beauty of the songs and the power of the singer who captures the many facets of life and love so vividly drawn by composers and poets such as Appollonaire, Jean Anouilh, and Edith Piaf. Step into the club, Le Chat Noir, and you will never be the same. Be prepared to let your heart open completely to the transcendent magic of Rosa Lamoreaux, singer and actress.

All piano accompaniments adapted and arranged by Betty Bullock.

The repertoire for this recording was performed by the artists at the National Gallery of Art for the exhibit "Toulouse-Lautrec and Montmartre."


Classical Cabaret


Put on your bowtie, your best silks and satins, pour yourself a glass of bubbly, and enjoy a nostalgic visit to the glamorous Café Society of the 20's and 30's with songs from the great American songwriters and French cabaret favorites.

With elegant music and clever lyrics, "Classical Cabaret" treats you to some of the most beloved songs of George Gershwin, Cole Porter, Irving Berlin, Harold Arlen, Richard Rodgers, Francis Poulenc and others from the Golden Age of popular song on both sides of the Atlantic.

"Soprano Rosa Lamoreaux turns her gorgeous voice into an instrument of wondrous colors ranging from the naughty-girl tones in 'My Heart Belongs to Daddy' to a deep knowingness for 'Blues in the Night,' and into the dark spaces of loss and longing as in 'I'll be Seeing You' and 'Can't Help Lovin' that Man.'
Albuquerque Journal

'Classical soprano, Rosa Lamoreaux.....discovered her Inner Vamp'. Washington Post



---


To purchase the following CDs please contact Rosa directly.




Dancing Day - 13th - 17th century Christmas delight, with traditional instruments of Hesperus, Tina Chancey on strings and the late Scott Reiss on recorders and hammered dulcimer.



My Thing is My Own

Hmm... You can learn a lot from titles such as, "My Thing is My Own", "The Surprised Nymph", "Twangdillo", "A Little of One with t'Other"...

Listen carefully and you may be shocked to hear R-rated lyrics from Restoration England. This is a delightful program of clever, bawdy, double entendre texts set to Common tunes of 16-17th century, from the collection of Thomas D'Urfey, Pills to Purge Melancholy.

"This program is marvelously well conceived and performed. Soprano Rosa Lamoreaux's bright, light tone and precise articulation are a joy. She never resorts to the heavy-handed leering that we get from some singers of this music, instead, she lets her glorious voice and D'Urfey's texts have their way". Early Music America




ArcoVoce

Vocal Music of Handel, Shostakovich, violins, harpsichord, cello, piano



I Love Lucette

French Theatrical Chansons of the 15th century with lute, recorder and gamba.